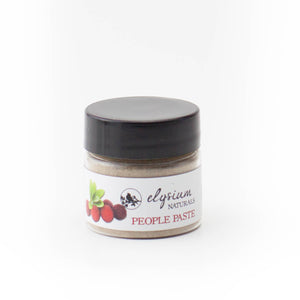 Our extraordinary blend of powdered herbs provide a powerful astringent powder that helps to stop bleeding in cuts and helps avoid infection in wounds.
This product is also included in our First Aid Kit. 
Product Description
Product Name: People Paste
Ingredients: Bayberry powder, Slippery Elm powder, Comfrey Root powder, Myrrh powder.
Qty: 0.5 oz
---
Medicinal Uses:
Direction: Apply to cuts to stop bleeding (apply pressure if necessary, and bandage), and apply to cleansed wounds to help speed healing and prevent infection.
---
Properties:  anti-bacterial, anti-cancer, anti-fungal, anti-inflammatory