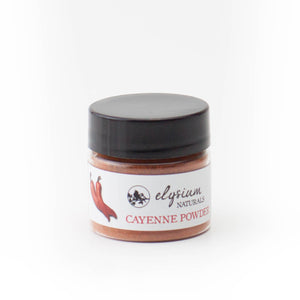 Summary: Cayenne has a long and rich history. In the Americas, it has been used as both food and medicine for at least 2,000 years. Its hot, spicy flavor, primarily due to capsaicin. Capsaicin is known to stimulates a region of the brain which triggers the lowering of body temperature. Cayenne is also used in traditional Indian Ayurvedic, Chinese, Japanese, and Korean medicines as a remedy for digestive problems, appetite stimulation, muscle pain, and frostbite. Today, topical preparations of cayenne are used in the United States and Europe primarily to relieve pain associated with certain conditions such as arthritis, shingles (Herpes zoster), and cancer.
This product is also included in our First Aid Kit.
Product Description
Common Name: Cayenne
Latin Name: Capsicum annuum-35,000 HU
Qty: 0.5 oz.
---
Medicinal Uses: arthritis, stops bleeding, cold feet, digestive aid, energy boost, heart attack, hemoglobin, circulation, low blood pressure, muscle pain, shock stroke, ulcers, varicose veins
---
Properties: anti-inflammatory, anti-arthritic, astringent, cardiac stimulant, decongestant, hemostatic, neurotic, tomachic
Body System(s): circulatory, digestive, nervous. respiratory