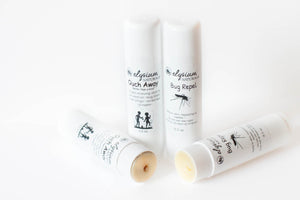 Ouch Away
 This stick has been tested and tried on my own nieces and nephews. The giant tube has a "wow" factor that sometimes even makes them forget what they were crying about. It's full of herbal infused oil, lavender essential oil and our people's paste. This tube is 1/2 an oz, which is over 3 times as big as a typical lip balm tube.
Ouch Away is 100% natural and something that you can feel good putting on your child's skin. I'm pretty sure you'll even want to use it yourself.

Also check out our Bug Repel Stick.
Ingredients: Beeswax, Cocoa Butter, Coconut Oil, Arnica, Calendula and St John's Wart infused Extra Virgin Olive Oil, Lavender Essential Oil, Comfrey Root Powder, Bayberry Powder, Myrrh Gum Powder, Slippery Elm Powder, Vitamin E Oil.
Directions: Apply to affected area and reapply as needed. Do not use near eyes. Keep our of reach of children. Stop using of irritation occurs.
This product is not approved by the FDA and is not intended to be used to diagnose, treat, cure, or prevent an disease or other complication.