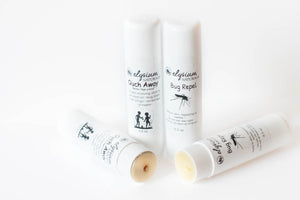 Bug Repel

 Are you tired of spraying insect spray on yourself and your children? I personally don't like the smell of bug spray, but I love the smell of this stick.
Bug Repel is 100% natural and helps keep insects at bay using a blend of essential oils instead of chemicals. This tube is half an oz, which is over 3 times as big as a typical lip balm tube.
Safe and effective on both children and adults.
Also check out our Ouch Away Stick.
Ingredients: Beeswax, Cocoa Butter, Coconut Oil, Grapeseed Oil, Essential Oils (Lemon, Lavender, Sweet Orange, Tea Tree, Lemon Grass, Rose Geranium, Citronella, and Cedarwood) Vitamin E oil
Instructions: Apply to skin, reapplying as needed. Do not use near eyes. Keep out of reach of children. Stop using if irritation occurs.
This product is not approved by the FDA and is not intended to be used to diagnose, treat, cure, or prevent an disease or other complication.